This is what is scheduled to be updated next week-shooting for Tuesday (maybe even sooner) — I'm super excited and have been working day and night on this, and it's been a blast. Special Shout out to our partners YHWH Games! who has made this all possible by helping us out with art!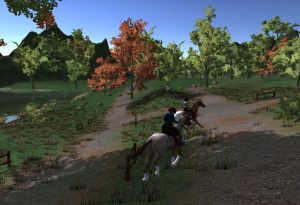 Upcoming Patch-week of 1/22/2019: 
New updates (Screenshots Below!)
–New UI is slowly being implemented- some sections have it done, others are the old.
–Private breeds can be distributed
–Unicorns! Very rare unicorns can be found through out the world.
–New Shop! With categories for equipment, clothing, accessories and the like.
–Quests! A long chain of tasks for a main quest is partially in and under testing
–Human Avatars! You can customize your avatar in the "Avatar" panel, button provided off the ranch page (home button).
–Horse Tack & Equipment! Everyone should get a starter saddle and bridle. To get more items, you can visit the store or complete quests
BugFixes
–Chat will return! Sorry our chat server went down when I had the game updates/code in limbo and could not update it till now.
–Notifications should delete properly, under testing
–Viewing your ranch panel after viewing another player's will no longer display their name and ID
–An issue where buying wild horse catches did not work while out riding has been fixed.
–Subscription time not displaying correctly after purchase has been fixed.
What we're working on:
–Reins and stirrups (I'm a rookie at game physics so trying to make them behave!)
–Bidding on horses
–Clubs
–Daily tasks
–Horse Level up Perk system
–Player Perk (level) system
–ranch building- place barns, fences and whatnot.
–inventory organization
–new ui
–Ability to have multiple ranches per account
–Dozens of new horse patterns and markings (always will add more)
–More Equipment and avatar customization options